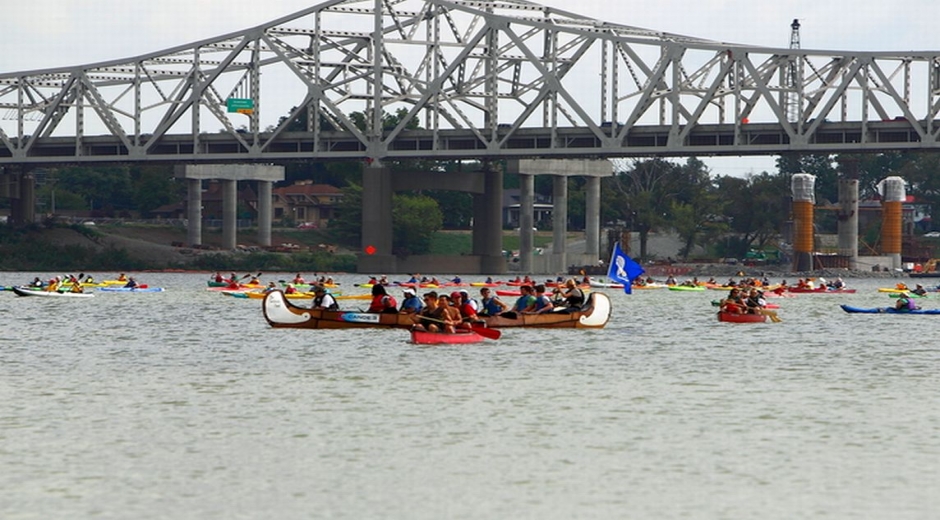 Hike, Bike, & Paddle Monday

Thomas McAdam
iLocalNews Louisville is your best source of news and information about Derby City. 
Thousands of cyclists, walkers, canoeists and kayakers will hit the streets and the Ohio River on Labor Day for the 22nd Subway Fresh Fit Hike, Bike & Paddle, next Monday,  Sept. 7 (Labor Day) at Louisville's Waterfront Park.
"We're always looking to improve and grow this incredibly popular event which has become a destination for cyclists, paddlers, walkers and others who just want a fun, high-energy start to their day," Mayor Greg Fischer said. "It's a great way for families and friends to celebrate the holiday weekend."
Paddlers will begin their adventurous five-mile course at 10 a.m., taking canoeists and kayakers through the McAlpine Locks and Dam to the Jaycees Boat Ramp in New Albany. TARC will offer a shuttle service for paddlers to retrieve their vehicles at the launch site. Organizers are attempting a Guinness World Record for most paddlers in a lock system.
Paddling participants will launch their canoes or kayaks at the river ramp located at the Harbor Lawn of Waterfront Park. Paddlers can drop their boats off at the "Green" parking lot near River Road and Witherspoon St. from 7:30 a.m. – 9:30 a.m.
Police and safety boats will be nearby during the paddling activity and all participants will have assistance if needed in launching their canoe or kayak. Safe paddling instruction and demonstrations will take place in the harbor area of the Great Lawn starting at 8 a.m.
For cyclists, a 15-mile route will leave Waterfront Park and go west through the Portland Stroll District to Shawnee Park, one of Louisville's signature Olmsted-designed Metro Parks. Turnoffs will provide cycling routes as short as two miles.
The hiking route, which is wheelchair-accessible, will take walkers west along the waterfront, along portions of the Riverwalk and wharf to 10th St. and back. Walkers can bring their dogs on the hike, but must keep them on a leash and pick up waste, as required by law.
Both the walking and cycling routes will be marked with signage and will have plenty of water stops. The Louisville YMCA will lead the hike. The Louisville Bicycle Club will provide "bike captains" to help cyclists obey the rules of the road. There will be an "inflation station" at Waterfront Park before the ride and bike marshals will join the route to assist cyclists with any equipment problems. LMPD will provide traffic assistance at key intersections and the Louisville Metro EMS bicycle team will patrol the route.
Yoga, Tai Chi, Zumba, Nia, pickleball and "Play Ball" demonstrations and group participation along with information stations will be offered starting at 8:30 a.m. at Waterfront Park.
Free T-shirts will be available for the first 3,000 participants who complete a short survey and the Brain Injury Association will distribute 500 helmets to riders who don't have one.
Participants are encouraged to be "green" and bring their own water bottles. Filling stations will be located in Waterfront and Shawnee Parks as part of Louisville Water's Pure Tap To Go program.
This is the eleventh year for the events, which are held each Memorial Day and Labor Day. The events are part of the city's Healthy Hometown Movement, created to encourage Louisville residents to be more active and make healthier lifestyle choices. For more information, go to www.hikebikeandpaddle.org.
Additional support is provided by Lite 106.9, Outfront Media and Scheller's Fitness & Cycling.
If You Go:
Subway Fresh Fit Hike, Bike & Paddle
Labor Day, Sept. 7, 8 a.m. at Waterfront Park
Starting point for cyclists and walkers is on Witherspoon Street near Preston St. Paddlers will put in at the Ohio River ramp on the Harbor Lawn of Waterfront Park. Booths open at 8:30 a.m. offering paddling instruction and safety lessons, cycling information and assistance, yoga, tai chi, Zumba, pickleball, Nia and "Play Ball" demonstrations with group participation and more. On-street parking is available near Waterfront Park. All TARC buses are equipped with bicycle racks for cyclists who want to leave the car at home.
To read more about the history of sea kayaking, CLICK HERE.