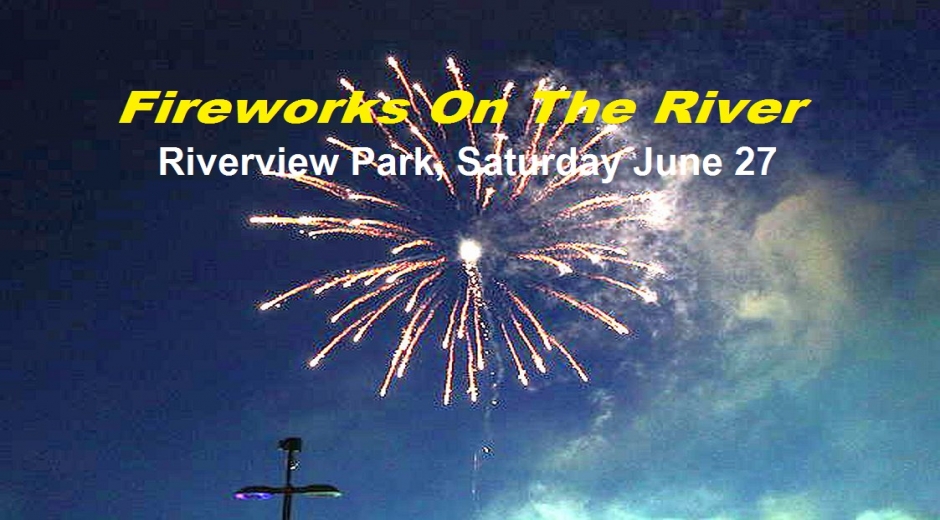 Thomas McAdam
iLocalNews Louisville is your best source of news and information about Derby City. 
There will be plenty of great family fun for the folks in Southwest Louisville next Saturday, as fireworks return to the Ohio River; kicking off a great weekend as America celebrates its birthday.  The Fourth Annual Riverview Park Independence Festival, sponsored by several members of the Louisville Metro Council, Brown-Forman and Louisville Gas & Electric Company, will return to Riverview Park.
The Riverview Park Independence Festival will begin at 3:00 pm and will cap off with the Fireworks show at 10:00 pm on Saturday, June 27th.  It is a free event.
"Last year, more than 10,000 people enjoyed the Festival on the Ohio River," said Metro Councilman Rick Blackwell (D-12), one of the sponsors. "We received great suggestions from attendees and sponsors so it should be better than ever."
There will be a day of music, entertainment, fun and food. Then, for the third year in a row, the patriotic sounds and spectacular lights of fireworks will be lit from a barge on the Ohio River for maximum visual impact.
"This festival has quickly become a tradition and is a great way to celebrate the holiday while enjoying one of the best parks we have in Southwest Louisville," said Councilwoman Cindi Fowler (D-14).
Joining Blackwell and Fowler as Metro Council sponsors are Vicki Aubrey Welch (D-13), Marianne Butler (D-15), David Yates (D-25), Madonna Flood (D-24), David Tandy (D-4), Mary C. Woolridge (D-3) and Dan Johnson (D-21)
Country rocker J.D. Shelburne will headline the Riverview Park Independence Festival taking the stage at 8:00pm. Another local favorite, 31W will perform on stage from 5:00 pm to 7:00 pm.
Among the highlights of this year's Festival:
● Events emceed by Southwest Louisville's own Dawne Gee & Julian Glover of WAVE3
● Kids' activities include appearances by Squallis Puppeteers fun experiments provided by Mad Science of Kentucky
● Hot air balloon rides offered in the Norton's Health Care balloon
● The Louisville League of Mascots will be on hand 
● New this year: a Patriotic Photo Booth with plenty of red, white and blue props to make any picture fun and memorable
● Ron's Hot Dogs, Ehrler's Ice Cream, Sivori Foods and BBQ Cowboy will provide delicious "Fair" fare
● Enjoy the wonderful Riverview Splash Park
● Fantastic Fireworks Show on the River at 10:00 pm! The show will be lit from a barge on the Ohio River creating a colorful reflection on the water and will be bigger and better than last year.
Limited parking is available at the park. Additional parking will be available at PRP High School located at 5901 Greenwood Road and TARC will be providing a trolley shuttle service for attendees from 4:00 pm until 10:45 pm.
""Join us to celebrate our country's Birthday while enjoying entertainment, fireworks and a Splashpark to cool off in the summer heat!" said Welch."
"I enjoy the great sense of community pride that this festival continues to celebrate for the people of this area at a time when we all gather as Americans to celebrate the founding of the greatest nation on earth," said Yates.
Brown Forman and LG&E have returned as Presenting Sponsors of this year's Independence Festival. The Corradino Group, Café Press, WAVE3 News, Norton Healthcare, Atlas Machine & Supply, and Metro PCS hhave contributed as Lead Sponsors. Leanhart Plumbling, Owen Funeral Home and Stephenson Garden Center are on board as Proud Patrons Festival owes a special thanks to Riverport Business Association.
 "Brown-Forman is proud to help enrich the experience of life in Southwest Louisville. The Riverview Park Independence Festival is a fun-filled day for families and friends to come together in one of Louisville's most beautiful settings. It's exciting to see the Festival continue to grow and we are proud to play a part in its success," says Rusty Cheuvront, Vice President, Director, Global Community Relations, Brown-Forman.
 "LG&E is proud to partner with fellow businesses and our area Metro Council members in supporting the Riverview Park Independence Festival again this year," said Marianne Butler, LG&E community initiatives manager. "This festival is a wonderful celebration of our independence as well as our sense of community here in Southwest Jefferson County that continues to grow bigger and better each year."
To see a listing of all the events for the Fourth Annual Riverview Park Independence Festival presented by LG&E and Brown-Forman go to http://www.RiverviewFestival.com/ or follow the event on Facebook.