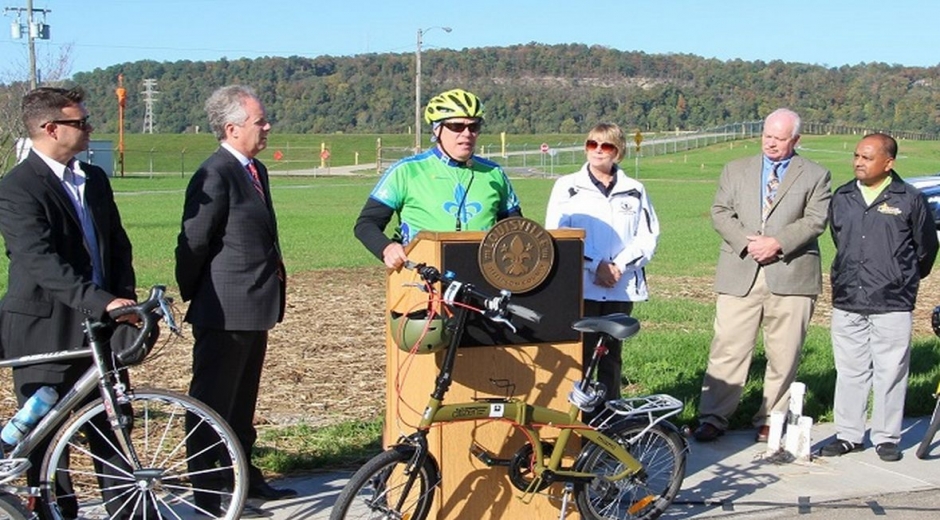 New Section Of Louisville Loop Now Open

Thomas McAdam
iLocalNews Louisville is your best source of news and information about Derby City. 
Mayor Greg Fischer and District 14 Councilwoman Cindi Fowler joined officials from Louisville Metro Parks and Louisville Gas And Electric Co. today to dedicate the newest section of the Louisville Loop, a 2.66-mile segment from Riverside, the Farnsley-Moremen Landing to the Mill Creek Generating Station in southwest Louisville.
"The Louisville Loop encourages wellness and connects people to their work, businesses, historical landmarks and neighborhoods," Fischer said. "We're excited to open this new segment and move closer to our goal of completing the 100-mile 'wedding ring' around the city."
"I appreciate the hard work of my staff and the community partners, such as LG&E, who have helped make this happen," Metro Parks Director Seve Ghose said. "With this portion of the project complete and others on the horizon, this is an exciting time to be a cyclist in this community."
Ghose also thanked the Metropolitan Sewer District and Jefferson Riverport International for their support of the Louisville Loop and its newest segment.
The Louisville Loop is a 100-mile paved shared-use path encircling the city of Louisville. It's the first new addition to the Ohio River Levee Trail section in seven years.
The Ohio River Levee Trail section now stretches almost 26 miles from the Big 4 Bridge east of downtown Louisville, through downtown; west Louisville and the historic Portland neighborhood; Lannan, Chickasaw and Shawnee parks; and then through Rubbertown, Greenwood, Pleasure Ridge Park and Valley Station before connecting with Riverside, the Farnsley-Moremen Landing and the new segment.
With this new section complete and an additional segment added in the Parklands of Floyd's Fork in east Louisville last year, almost 40 percent of the Loop is complete.
When completed, the Louisville Loop will pass within a mile of the majority of the population and connect directly to some of the largest employment centers in the city.
Planning for this new segment began in spring 2009, when the Kentuckiana Planning and Development Agency and Kentucky Transportation Cabinet secured funding through the American Recovery and Reinvestment Act.
Design and construction of the 10-foot wide asphalt path cost $1.218 million. Local firms Qk4 (design) and Louisville Paving (construction) performed the work on the new section.
The project also includes a new trailhead near the Mill Creek Generating Station that includes a parking area, with accessible parking spaces; a drinking fountain, bike racks, benches, trash receptacles, Louisville Loop signage/wayfinding information and even a TARC bus turnaround.
"The Louisville Loop has already shown itself to be a tremendous asset to our community and the completion of this latest segment shows our commitment to continuing to find new, dynamic ways to connect our neighborhoods," Fowler said.  "I look forward to the work ahead to complete the project and finally realize the vision of the Louisville Loop, as well as the promise it holds for our city."
"This new stretch of the Louisville Loop gives us all an opportunity to get out and explore different parts of our area and interact with one another," said LG&E Vice President of Power Generation Ralph Bowling. "Those are things that ultimately help to strengthen our community and that's something we're proud to be a part of."