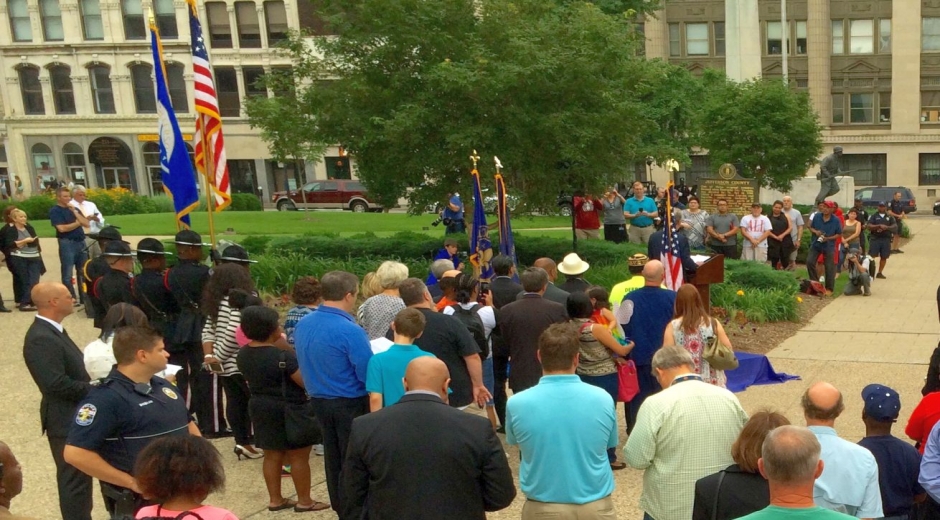 Louisville Honors Muhammad Ali

Thomas McAdam
iLocalNews Louisville is your best source of news and information about Derby City. 
On Friday, June 3, Louisville boxing legend Muhammad Ali died from complications related to his decades-­long battle with Parkinson's disease. His funeral will take place in his hometown on Friday, June 10th at the KFC YUM! Center. The service will be open to the public and will begin at 2:00 pm. For those unable to attend, it will be streamed live from www.alicenter.org. The event will be open to the public with limited seating. Information and details on tickets will be released as they become available.
In addition to the funeral, there will be a procession throughout Louisville to allow the general public to pay their last respect to the late prizefighter.  On Friday, June 10, beginning at 9AM, the procession will travel northbound on Bardstown Road, westbound on the Watterson Expressway, and then north on I-­65 to westbound I-­64 (exiting 9th Street ramp). Then traveling west on Muhammad Ali Blvd to 34th Street, left on 34th street to Broadway, making a left on Broadway and then traveling to Cave Hill Cemetery. The route includes locations that were historically important to Ali.
The procession will proceed slowly down these streets in order to allow mourners to pay final respects during Ali's final journey.
Mourners will also be able to pay their respects at the Muhammad Ali Center (144 N 6th Street Louisville, Ky.). The Center will be open throughout the week to allow the public to celebrate the life and legacy of Ali. In lieu of gifts or flowers, the family asks that donations be made to the Muhammad Ali Center (www.alicenter.org).
Mayor Greg Fischer's remarks Saturday morning on the passing of Muhammad Ali:
Muhammad Ali lived a life so big and bold, it's hard to believe that any one man could do everything he did, could be all the things that he became in the course of just one lifetime.
This man, this champion, ended his 74 years yesterday as A United Nations Messenger of Peace; a Humanitarian and champion athlete who earned Amnesty International's Lifetime Achievement Award; the Presidential Medal of Freedom; and Sports Illustrated Sportsman of the Century.
He was co-founder, with his beloved wife Lonnie, of the Muhammad Ali Center, which promotes respect, hope, and understanding here in his hometown of Louisville, and around the world.
A man of action and principle, he was a conscientious objector to the Vietnam War, and willingly paid the price, taking a stand that forced him out of the ring for over three years during the prime of his career.
A devout Muslim and interfaith pioneer, he took the name Muhammad Ali in 1964 and advocated for understanding and peace among people of different faiths.
He was, of course, three-time heavyweight champion of the world -- a young, handsome fighter with swagger like the world had never seen. He intimidated opponents outside the ring and dominated them inside it.
Like when he predicted he would beat Sonny Liston in 1964, made it happen, and shouted, "I shook up the world."
He was winner of the Olympic Gold Medal in Rome, 1960.
A graduate of Louisville's Central High School, class of 1960.
He was a 12-year-old boy whose red bicycle was stolen in front of a gym on Fourth Street, who told police officer Joe Martin that he wanted to "whup" whoever took it. And Martin said that he'd better learn to box first.
Muhammad Ali was a boy who grew up at 3302 Grand Avenue. He liked to eat hot dogs and play Clue with his brother in a house that's now a museum. 
And before that, he was a newborn baby, Cassius Marcellus Clay Jr., born January 17, 1942 to Cassius Sr. and Odessa Grady Clay.
Imagine that day, that little boy, eyes wide open looking around the room at the old Louisville General Hospital. Not knowing the life that awaited him.  The life he would make. The world he would shake up. The people he would inspire.
And like you, I am absolutely one of those people.  
Muhammad Ali belongs to the world, but he only has one hometown. The Louisville Lip spoke to everyone, but we heard him in a way no one else could – as our brother, our uncle, and our inspiration.
And I am so grateful I had the chance to know him and see how he leveraged his fame to share his message of love, peace and compassion.
What The Champ would want us to do right now is to spread that same message, follow his example, and live by the same six core principles that he lived by:
Confidence
Conviction
Dedication
Giving
Respect, and
Spirituality
I'd like to close with Muhammad's words, which carried just as much grace and power as his fists ever did. This comes from his book The Soul of a Butterfly: Reflections on Life's Journey.
"It doesn't matter whether you're a Muslim, a Christian, or a Jew. When you believe in God, you should believe that all people are part of one family. If you love God, you can't love only some of his children." 
He believed passionately in the need for us all to keep our eyes, our minds and our hearts open so we can keep learning from each other. As he says,
"My soul has grown over the years, and some of my views have changed. As long as I'm alive, I will continue to try to understand more because the work of the heart is never done."
We all remember the incredible moment in 1996 when Muhammad held that burning torch in his trembling hand and lit the Olympic flame in Atlanta. 
 And now, he has passed his torch to us.
While there can only be one Muhammad Ali, his journey from Grand Avenue to global icon serves as a reminder that there are young people with the potential for greatness in houses and neighborhoods all over our city, our nation and our world.
There is no limit to what our kids can do if we help them realize their full human potential - and there is no excuse for us to do anything less than our best to help them find that greatness in themselves.
That's how we can be champions. Muhammad Ali has shown us the way.
Today, we, his fellow Louisvillians, join the billions whose lives he touched worldwide in mourning his passing, celebrating his legacy, and saying, "Thank you Muhammad, for everything you've given to your hometown, your country, and the world."  
Thank you.
Several Members of the Louisville Metro Council on the passing of Muhammad Ali
"Our city, our Commonwealth, our nation and the world has lost "The Greatest". Not only was Muhammad Ali a legend in the world of sports, and considered by many to be the greatest heavyweight boxer of all time, he changed the world with what he did outside the ring. He was a champion for civil rights, religious freedom, and solving conflicts through peace and understanding. A man of humble beginnings right here in Louisville, who inspired young people to be the best they could be in whatever field they chose to pursue. To Lonnie and all the members of the Ali family, we on the Metro Council send our thoughts and prayers in this time of grief. Our city is honored to be known as the hometown of Muhammad Ali. May we follow his example as we work together for a better world for all."  --David Yates, President, District 25
"My family and I send our condolences to the Ali family.  What a loss to all of America, and the city of Louisville as we mourn the passing of the greatest of all time, Muhammad Ali.   The Champ was a native of District 1, and his legacy will forever live on in the lives of the little boys and girls who grow up in our community, who push themselves and know that they too, can be great.  His life and journey let us all know that anything, particularly greatness, is possible with hard work, dedication, and faith.  He was a giant for human and civil right and a hero to all Americans, but particularly for the disenfranchised.  Our native son, you will never be forgotten, and your legacy will live on throughout the ages."  --Jessica Green, District 1
"I am saddened to hear the news of his passing. I first met him as a classmate in Central High School. He and his brother became lifelong friends from that moment on. Even as he became well known around the world, he would always remember those high school days we shared when he came home to Louisville and our paths crossed over the years. His work and his example are to be admired at a time when we need to show young people what you can achieve when you believe in yourself and spread a message of peace throughout the world. My thoughts and prayers are with the family."  --Barbara Shanklin, District 2
"Like many I remember Muhammad Ali as a classmate at Central High School and as I have watched him through these years I cannot help but remember how each of us can make a difference. Many of us at the time saw the need to make a difference in civil rights locally standing up for what is right and being an example that we all must stand for equality. He became the best professional heavyweight champion that will ever be and showed the world that it was time to stand for civil rights and equality Muhammad Ali was a legend who had unshakable integrity when it came to something that he believed in. I am proud to have known him and his family. We will not see another like him in our life time. My thoughts and prayers to the family, we in Louisville have lost our own true champion."  --Mary C. Woolridge District 3
"Carolyn and I are saddened by the news of Muhammad Ali 's passing.  Our thoughts and prayers are with Lonnie, the rest of the family and the countless number of friends who mourn his passing. Known as "the Greatest of All Time", Ali through his example, first in the ring and later through his humanitarian work around the world, showed everyone that we all have our own form of greatness inside of us.  Furthermore, he showed us that we all have a debt of service to pay to one another in order to make our world a better place. When we talk about Louisville being known as "Possibility City" such a statement is only capable of being made because it was here in our city that one of its sons, who had his bike stolen as a boy, could become the three-time heavyweight boxing champion of the world to later become a statesmen who helped transform the world. Muhammad Ali 's life was truly a gift to the world and his legacy will be one that will continue to endure for generations."  --David Tandy, District 4
"I've been reflecting over the last 24 hours about Muhammad Ali and his influence on my life and so many others in his hometown. When you think about it, Louisville is really a special place to live and to have grown up, actually going back hundreds of years. As teens growing up in segregated Louisville in the 60s, and participating in the civil rights movement, we were so fortunate to have had leaders & role models such as Anne Braden, Dr. King and Muhammad Ali in our midst (to name a few).They projected an air of supreme self-confidence to impressionable youth by their resolve to not back down or give in to injustice. They were all leaders who had the courage of their convictions and despite the hate and vitriol they constantly received and were vilified for their beliefs and actions, they continued to fight and strive for freedom, justice and equality throughout their lives. They spoke truth to power and all stood fast and clung firm to their faith and principles and history now reveres them. I will, and we each should, continue to try to exemplify & impart to our impressionable youth Muhammad Ali's six core principles; Confidence, Conviction, Dedication, Giving, Respect & Spirituality. Rest in Peace Muhammad Ali. Well done!"  --Cheri Bryant Hamilton, District 5
"He was a man who touched many lives by his determination, athletic talent and belief in himself and in the good that can be found in many places of the world. The journey he began as a 12 year old who was interested in boxing has led to his being not only an iconic figure in the world of sports but an ambassador for peace and equal justice throughout the world. May we all see how we can change the world by believing in ourselves, our community and seeing the potential in the people we have not yet touched. My thoughts and prayers are with Lonnie and the family at this time of grief."    --David James, District 6