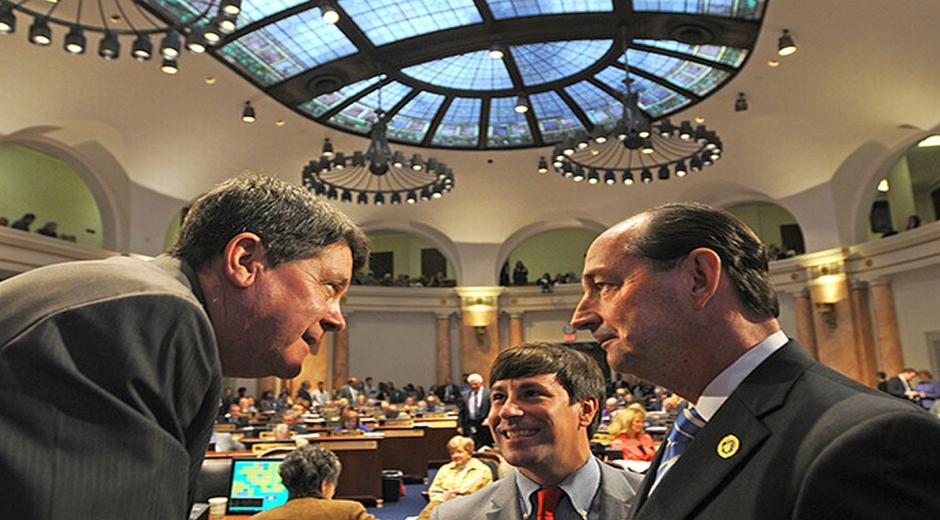 Week Eight Of The General Assembly

Thomas McAdam
iLocalNews Louisville is your best source of news and information about Derby City. 
With the Kentucky General Assembly's 2016 in its second half, lawmakers have voted on scores of bills, held numerous budget hearings to dig into the governor's state spending plan and heard many hours of testimony on the major education, health care, and crime issues confronting Kentucky.
But the legislative process is more like a marathon than a sprint, so the final half of our session is sure to see even more action – especially as the state budget comes closer to a vote in the House of Representatives and delivery to the Senate.
The state spending plan was unveiled one month ago by Gov. Matt Bevin, who proposed 4.5 percent budget cuts for the rest of the current fiscal year and 9 percent cuts across state government for the next two fiscal years. The savings are aimed at helping state pension systems meet obligations.
Not all parts of state government would see spending cuts under the governor's plan. The main school funding formula, known as SEEK, is spared. So is Medicaid, veterans affairs, school district health insurance, student financial aid and more.
Lawmakers serving on budget committees are currently digging deep into the spending plan's details and continue to seek information from state officials on how proposed spending cuts would affect state services.
Once House members tailor the spending plan into a document they are satisfied with, the budget will receive its turn in the Senate. By session's end, Senate and House members are expected to meet in conference committee meetings to iron out differences in each chamber's preferred spending plans.
While the budget is the issue commanding the most attention in Frankfort, many other bills are also working their way through the legislative process. Bills took steps forward this past week on the following issues:
Heroin. Senate Bill 115, would increase penalties for dealing heroin. It would make trafficking in any amount of heroin a Class C felony for the first offense. A Class C felony is punishable upon conviction by between five years and 10 years in prison. Currently, a person convicted of trafficking in under two grams of heroin faces a Class D felony on the first offense, which carries a penalty of one year to five years in prison. SB 115 would also double the time a person convicted of trafficking less than two grams of heroin would have to serve in prison before becoming eligible for parole. The bill calls for a person convicted of any amount of heroin dealing to serve 50 percent of his or her sentence before being considered for parole. The legislation was approved by the Senate and how awaits action in the House.
Life insurance. HB 408 specifies that a law already on the books requiring life insurance companies to make a good-faith effort to locate beneficiaries of death and burial policies should be applied retroactively. The bill passed the House and has been sent to the Senate.
EMS. Senate Bill 43 would create a death benefit for emergency medical services personnel, if they are employed by a city or county government and killed in the line of duty. The death benefit would be $80,000 and go to the next of kin. The bill was approved by the Senate and sent to the House for consideration.
Adventure tourism. House Bill 38 would allow recreational zip lines to be regulated. The bill would require the state to set standards for the use and operation of aerial recreational facilities like outdoor zip line and canopy tours should it become law. The bill was approved by the House and sent to the Senate.
Dog fighting. Senate Bill 14 would make the owning, possessing, breeding, training, selling or transferring of dogs intended for use in fighting a felony punishable by one year to five years in prison. The bill was approved by the Senate and sent to the House for consideration.
Tenant protection. House Bill 41 would allow victims of domestic violence to get out of a lease with at least 30 days' notice to their landlord. Additionally, HB 41 would prohibit landlords from denying someone a lease based on the fact that a person has taken out an emergency protective order, domestic violence order or other type of restraining order. The bill also would prohibit landlords from using rental agreements to penalize tenants who request assistance from emergency services and allow a victim to request that locks be changed by the landlord with at least 72 hours' notice. The bill has been approved by the House. It now awaits consideration in the Senate.
Firefighters. Senate Bill 195 would extend government –paid survivor benefits the families of cancer-stricken firefighters – both professional and volunteer. The $80,000 death benefit would be paid out of the state general fund. Under the legislation, the firefighter would have to be 65 years old or younger at the time of their passing and had been on the job for at least five consecutive years. Their cancer also could not be attributed to a preexisting condition or tobacco. The bill has been approved by the Senate and delivered to the House.
Drones. House Bill 120 would specify in state law that it's illegal to use a drone to harass someone or for acts of voyeurism, forcible entry, theft or burglary. All offenses would be misdemeanor crimes except harassing conduct, which would be a violation carrying a fine. The bill was approved by the House and has been delivered to the Senate.
This current week also marks deadlines for introducing new bills in the House and Senate. At the time of this writing, about 700 bills have been filed for consideration in this year's 60-day session. With the approaching deadline to add to that number, Capitol observers will soon have an even clearer picture of the range of issues that will be considered in the days to come
That makes this a crucial time for Kentuckians to stay in close touch with their lawmakers and offer feedback on the issues of the day. Citizens can see which bills are under consideration and keep track of their progress by visiting the Kentucky Legislature Home Page at www.lrc.ky.gov. Kentuckians can also share their thoughts with lawmakers by calling the General Assembly's toll-free message line at 800-372-7181.
Photo:  House Speaker Greg Stumbo, D-Prestonsburg (left), confers with Rep. James Kay, D-Versailles (center), and House Majority Floor Leader Rocky Adkins, D-Sandy Hook, in the Kentucky House of Representatives.
(Robert Weber, of the Kentucky Legislative Research Commission contributed to this article)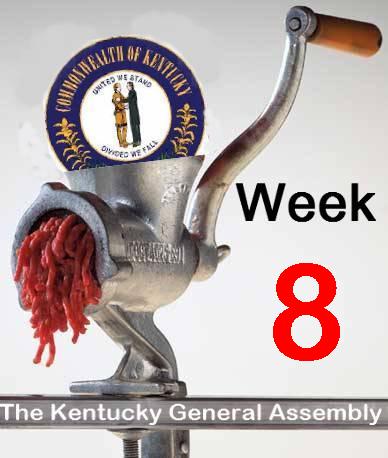 Gideon John Tucker (February 10, 1826 – July 1899) was an American lawyer, newspaper editor and politician. In 1866, as Surrogate of New York, he wrote in a decision of a will case (Final Accounting in the Estate of A.B., 1 Tucker 248, N.Y. Surr. 1866): "No man's life, liberty or property are safe while the Legislature is in session."