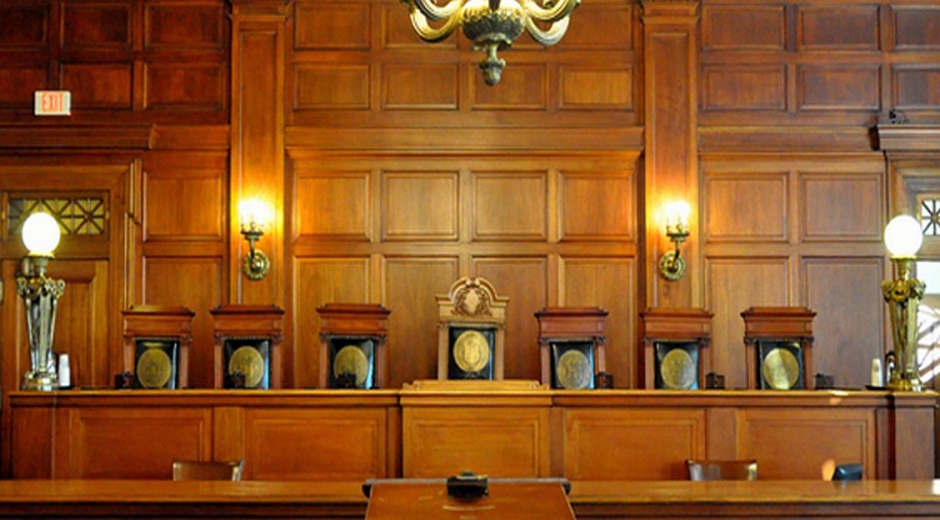 Kentucky Court of Justice

Thomas McAdam
iLocalNews Louisville is your best source of news and information about Derby City. 
Chief Justice John D. Minton Jr. gave the legislature an update on the "events, accomplishment and turning points that have made 2015 a seminal year for the state court system" during the annual State of the Judiciary address last Friday at Northern Kentucky University. His remarks took place before the General Assembly's Interim Joint Committee on Judiciary.
"Last year I talked about how the courts are pursuing better service through new technology and I'm pleased that we continue to make significant progress toward that goal," Chief Justice Minton said. "We're pressing forward aggressively and drawing on expertise from all areas of the court system to carry out a sweeping, multiyear eCourts initiative."
He said that eFiling became available in all 120 counties when it launched in Jefferson County on Oct. 21. Court documents can now be filed electronically in Circuit Court and District Court statewide. He also said that the court system is planning a new electronic case management system for the Supreme Court and Court of Appeals. "When completed, Kentucky will have a case management system that allows the seamless transition of data between the trial and appellate courts."
He said that CourtNet 2.0, the application that provides nearly real-time online access to Kentucky civil and criminal cases, has registered more than 6,000 subscribers since the program launched in 2013. And a new automated Accounts Receivable system is now live in 113 counties, with all counties to be online by May 2016.
He said that the court system has also been instrumental in implementing important legislation. "The Administrative Office of the Courts has been working diligently to restructure the Court Designated Worker Program and the juvenile court process as mandated by Senate Bill 200. Although it is early in the process, current outcomes indicate that juvenile justice reform is achieving its intended effect of providing youth with enhanced services while reducing detention."
Chief Justice Minton added that the AOC is also on target to carry out its responsibilities under House Bill 8, which extends civil protection to victims of dating violence, sexual assault and stalking.
He said the Judicial Branch shares the statewide concern over Kentucky's soaring heroin problem and that Kentucky Drug Court is exploring the option of medically assisted treatment, or MAT. Nearly a year ago, the AOC began working with judges to pilot a program that uses Vivitrol as part of MAT for eligible Drug Court participants.
"Today we have 15 Drug Court programs using Vivitrol and 14 others contemplating its use," he said. "The Supreme Court also changed Drug Court's administrative procedures in response to our federal grantors' requirement by removing language that limited MAT to six months while in Drug Court. It's premature to speculate on the success of Vivitrol so early in the pilot project, but I hope to provide you with a positive update soon."
He noted that Kentucky was one of the first states to abolish commercial bailing bonding and in the last 40 years has become a national model for its approach to pretrial release. "Today multiple states and media outlets are turning to Kentucky Pretrial Services to learn how our evidence-based risk assessment tool has fundamentally improved the pretrial decision-making process. In the last 12 months, the AOC has assisted nearly 30 states that want to learn more about Kentucky's pretrial model."
He said the Supreme Court has created the new Temporary Assignment of Retired Judges Program to fill the gap left by the Senior Judges Program, which has sunset. The new program was effective July 15, 2015, and will assign judges to cover for sitting judges when there are unavoidable vacancies due to circumstances such as retirement, illness, death, recusal and congested dockets.
He reported on the Judicial Branch conducting the first Judicial Workload Assessment Study in the court system's history. The purpose of the study is to measure caseloads across the state to address any workload imbalances resulting from our decades-old configuration of judicial circuits and districts. Chief Justice Minton will present a report of the findings to the legislature in January 2016.
He also addressed Kentucky's low judicial salaries. "As you know, I've been vocal about the urgent need to address the salaries of Kentucky judges, who earn less than their counterparts almost everywhere in the country," Chief Justice Minton said. He said he had convened a Judicial Compensation Commission, which is finalizing a report to be presented before the Interim Joint A & R Committee on Nov.16. "Based on the commission's recommendations, we will include funding for a judicial salary increase in the Judicial Branch budget request for the 2016 budget session."
In closing, Chief Justice Minton "acknowledge the outstanding efforts of our justices, judges, circuit court clerks and court personnel during what I consider to be an extraordinary year for the Judicial Branch. 2015 has been remarkable not only for the number of major initiatives we've been involved in, but also for our ability to respond decisively to a rapidly changing environment and exacting demands."
He also expressed his "deep appreciation to the Legislative Branch, which has become our valued partner in positioning the court system for a bright and viable future. We've worked hard to foster honest, open communication with our legislators and build a relationship of mutual trust. We respect your role in writing the laws and take seriously our responsibility to be the boots on the ground, so to speak, by putting those laws into practice."
Read Chief Justice Minton's address.