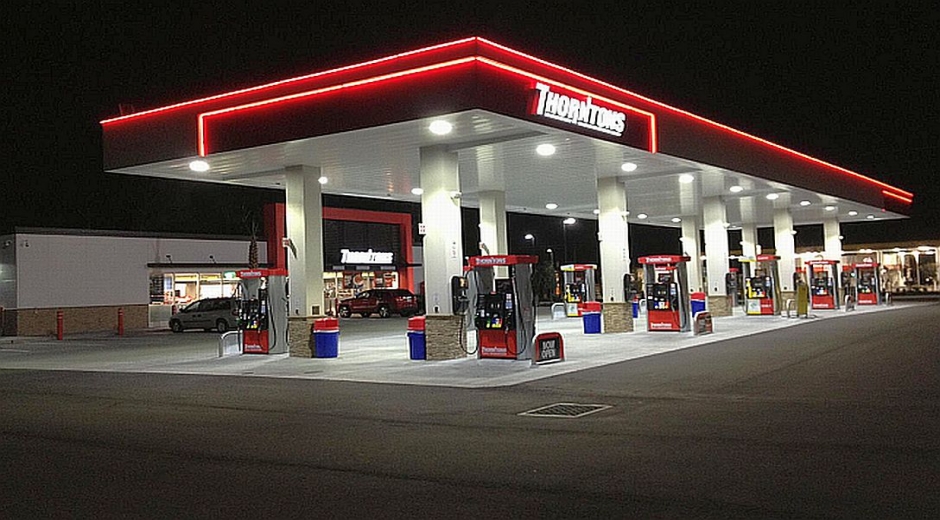 Thorntons Expanding Louisville Headquarters

Thomas McAdam
iLocalNews Louisville is your best source of news and information about Derby City. 
One of Kentucky's largest privately owned companies has decided to expand its presence in the Commonwealth. Louisville Mayor Greg Fischer and Gov. Steve Beshear today announced Thorntons Inc. is expanding its headquarters in Louisville with a move to a larger facility.
Thorntons, a growing convenience chain retailer that provides fresh foods, high quality beverages and fuel, will create 110 jobs and invest nearly $28 million into the project.
"Thorntons local expansion and investment is further proof that Louisville has a thriving business culture and I am proud that they have decided to grow their footprint in our community," said Louisville Mayor Greg Fischer. "I would personally like to thank Matt Thornton for the contributions his company has made to Louisville and their commitment to bettering the quality of life for our citizens."
"The decision from Thorntons to expand in Louisville is great news for both the city and the Commonwealth," said Gov. Steve Beshear. "When a company that has called Kentucky home for more than 40 years decides to remain here for a major expansion, it shows that we have established a successful partnership. We look forward to continued work with this rapidly growing Kentucky company."
Thorntons will be relocating from its current 46,000-square-foot facility to a new 92,500-square-foot store support center on Old Henry Road with construction expected to begin later this year. Due to company growth, Thorntons made the decision to expand to operate more efficiently.
"We are proud to call Louisville our hometown and we're excited about expanding our Store Support Center in Louisville," said Matt Thornton, Thorntons' Chief Executive Officer.  "The Louisville community has been very good to us over the years and we couldn't think of a better place from which to grow our business."
Thorntons was established in 1971, and has since grown to include 182 convenience stores in six states. It is a family-owned, privately-held company based in Louisville.
"In addition to their traditional fuel business, we are beyond excited that Thorntons is entering into a new food market with their fresh foods division that will add to Louisville's growing strength in the food and beverage sector," said Mary Ellen Wiederwohl, Chief of Louisville Forward.  "Thorntons has continued to be an excellent corporate citizen and we look forward to helping them grow their business throughout the Commonwealth and beyond."
To encourage the investment and job growth in the community, the Kentucky Economic Development Finance Authority (KEDFA) preliminarily approved the company for tax incentives up to $2 million through the Kentucky Business Investment program. The performance-based incentive allows a company to keep a portion of its investment over the term of the agreement through corporate income tax credits and wage assessments by meeting job and investment targets.
Additionally, Thorntons was approved by KEDFA for $600,000 in tax incentives through the Kentucky Enterprise Initiative Act (KEIA). KEIA allows approved companies to recoup Kentucky sales and use tax on construction costs, building fixtures, equipment used in research and development and electronic processing equipment.
For more information on Thorntons, visit www.thorntonsinc.com.