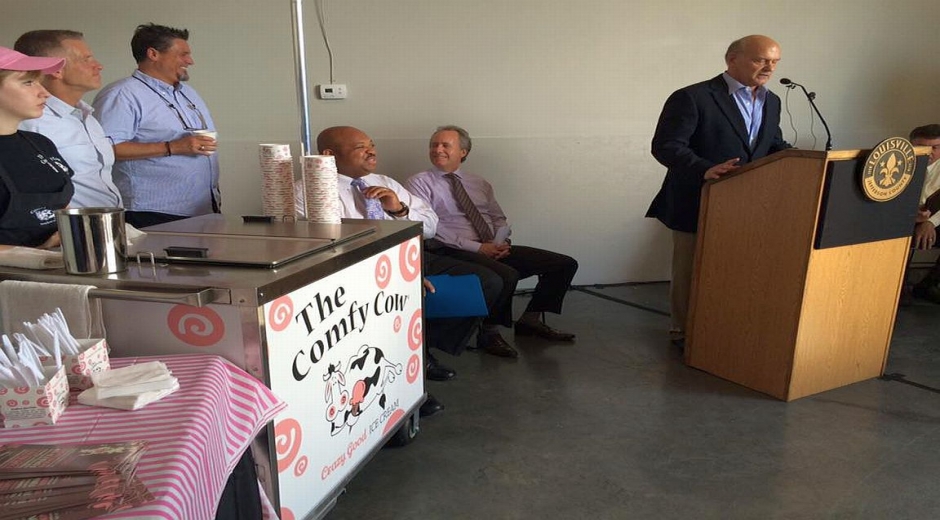 Thomas McAdam
iLocalNews Louisville is your best source of news and information about Derby City. 
One of Louisville's favorite treats will soon be in freezers across the country. Lt. Gov. Crit Luallen and Mayor Greg Fischer today joined company officials to cut the ribbon on The Comfy Cow's first standalone production facility in Louisville.
The Comfy Cow, a local ice cream producer and retailer, is expected to invest $2 million and create up to 40 new jobs over the next 10 years. The facility will allow The Comfy Cow to produce and sell its premium ice cream to retail establishments throughout the United States.
"I would like to personally congratulate The Comfy Cow on this major milestone," said Gov. Steve Beshear. "Started in 2009 with little more than an idea and an entrepreneurial spirit, The Comfy Cow is a sweet example of the strong small business climate here in the Commonwealth, where entrepreneurs, local economic development and the state work hand-in-hand to create jobs for Kentuckians."
"This expansion is great news for Louisville and the Commonwealth," said Lt. Gov. Luallen. "The Comfy Cow's commitment to the highest-quality products with predominantly locally sourced ingredients will be a testament to consumers nationwide that Kentucky offers only the best. We are proud that The Comfy Cow calls Kentucky home."
"We are thrilled that The Comfy Cow is growing their wholesale side to become an ice cream brand that will be enjoyed in homes throughout the country," said Louisville Mayor Greg Fischer.  "Because of the demonstrated strength in Louisville's food and beverage cluster, small businesses like The Comfy Cow have the support of community partners and expertise to continue to grow and thrive in a global marketplace."
The Comfy Cow commissary is a 6,500-square-foot facility in the Regency Pointe Business Center in Jeffersontown. The company remodeled the building and outfitted it with state-of-the-art equipment to increase production capacity and to bring pasteurizing and homogenization onsite. With this investment, the company is able to shift its sourcing of all of its dairy products from Illinois to Kentucky.
"This is a major milestone for the company and its growth," said Don Berg, CEO.
"This investment will allow the company to scale up and support the national expansion and opportunities that we see," said Tim Koons-McGee, co-founder and chairman of the company. "The consumer reception and support of The Comfy Cow has been remarkable, and we humbly look forward to bringing our ice cream, our experience and our Comfy Cow to all consumers across the country as we bring them a little bit of Louisville and Kentucky. As we like to say, 'We are Kentucky proud as a product and Louisville proud as a brand.' We fully appreciate all of the help that we have had from the state and the city in making this dream come true."
Partners Tim and Roy Koons-McGee opened the first Comfy Cow store in Louisville's Westport Village in December 2009. Since the company's inception, they set out to create a business that offered both great ice cream and a great ice cream experience by producing a high-quality, super-premium ice cream served in a family friendly, fun and funky atmosphere. The Comfy Cow uses many local ingredients in its products.
The Comfy Cow has retail locations in Louisville in Westport Village, on Frankfort Avenue, Bardstown Road, at the University of Louisville's campus and soon in Middletown. The Comfy Cow has recently expanded with franchises in Nashville and southern Indiana. It is also available in many grocery outlets throughout the Louisville metropolitan area, as well as in Lexington, Cincinnati, Columbus and Pittsburgh.
"We are proud to have a local company that represents both quality and unprecedented service locate the next phase of their business in Jeffersontown," said Jeffersontown Mayor Bill Dieruf.
"It is always inspiring to see this type of growth from one of our own local businesses," said Sen. Julie Raque Adams, of Louisville. "We are proud to welcome this new facility to the Louisville area and we are excited about the 40 new jobs this investment will create."
"Soon the rest of the country will know what we in Louisville have experienced for years, that Comfy Cow makes delicious ice cream," said Rep. Jerry Miller, of Louisville. "It is also gratifying to see a local business like Comfy Cow be able to grow and expand their operations, and provide more jobs to our region."
To encourage the investment and job growth in Jefferson County, the Kentucky Economic Development Finance Authority preliminarily approved the company for tax incentives up to $350,000 through the Kentucky Business Investment program. The performance-based incentive allows a company to keep a portion of its investment over the term of the agreement through corporate income tax credits and wage assessments by meeting job and investment targets.