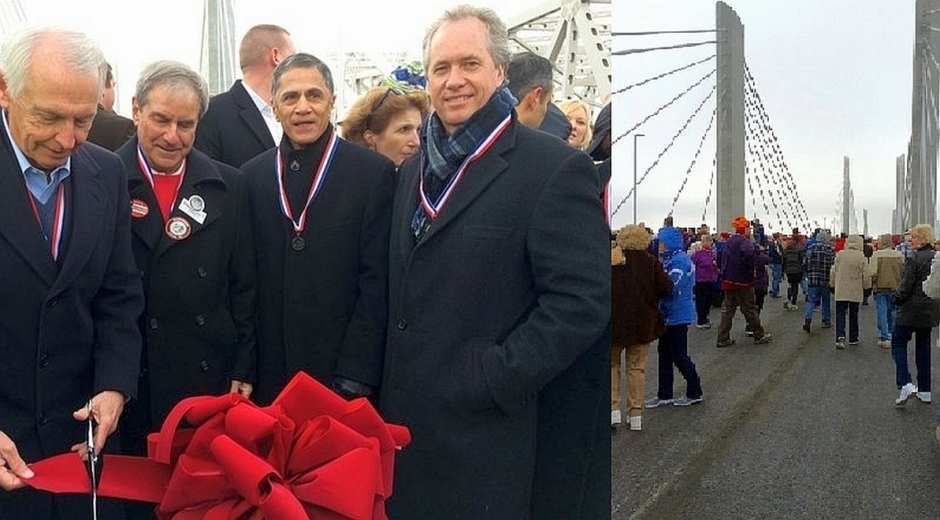 New Abraham Lincoln Bridge Opens

Thomas McAdam
iLocalNews Louisville is your best source of news and information about Derby City. 
Thousands of Kentuckians and Hoosiers streamed onto the new Abraham Lincoln Bridge today to share a once-in-a-lifetime experience – walking the massive cable-stay bridge before it opens to traffic next week.
Kentucky Gov. Steve Beshear and Indiana Gov. Mike Pence, joined by local, state and federal leaders, cut the ribbon to open the six-lane, 2,100-foot-long bridge to a crowd of excited citizens.
It was Gov. Beshear and former Indiana Gov. Mitch Daniels who ended decades of debate and forged a solution to build two new bridges across the Ohio River,
The historic celebration included U.S. Deputy Secretary of Transportation Victor Mendez, Kentucky Gov.-elect Matt Bevin, U.S. Rep. John Yarmuth, Lt. Gov. Crit Luallen, former Lt. Gov. Jerry Abramson and hundreds of local government, business and community leaders who helped champion the Ohio River Bridges Project. Nearly 100 leaders were among the first to officially cross the bridge in a caravan that included Kentucky-made vehicles and a TARC bus.
"The people on this bridge truly believed our citizens deserve a better, safer, smarter transportation system to keep traffic flowing and business growing for our children and our grandchildren," said Gov. Beshear. "Because we came together, worked together, believed together, we built this bridge. Today, we are all bridge builders."
"Different states, different parties, but neither ever meant a thing. Indiana and Kentucky went to work tackling their infrastructure problems while the nation and most states just dithered and wrung their hands," said former Gov. Daniels, who now serves as president of Purdue University. "We are already seeing the jobs effects of wise public investment, and now the quality of life benefits will start to flow also. I'm grateful to Gov. Beshear for inviting me, but more so for his leadership in helping bring this project to reality."
The Lincoln Bridge, an improved John F. Kennedy Bridge and reconstructed interchanges in downtown Louisville and Jeffersonville are just part of the $2.3 billion Bridges Project. The investment includes the East End Crossing, a new bridge between Utica, Indiana, and Prospect, Kentucky, which will complete a long-sought cross-river connection to improve transportation and spur economic development in the region.
Medallions, selfies, strolls mark the celebration
Thousands of visitors received a keepsake medallion to mark the historic event. The silver medallion includes a rendering of the new bridge and hangs from a red, white and blue ribbon.
Photo and "selfie" stations across the bridge encouraged walkers to snap pictures of themselves on the bridge and share on social media, tagged #walkthebridge.
Many people completed the mile-long loop, walking from the base of the Jeffersonville ramp to the bridge's southern end at the Kentucky shore and back.