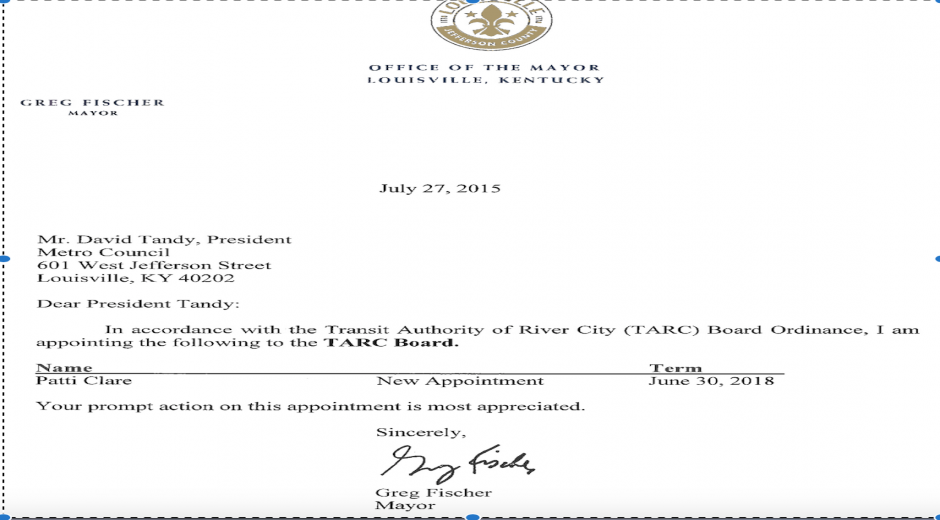 Mayor Fischer Violates Law Appointing Metro Employee to TARC Board
Mayor Greg Fischer has appointed Patti Clare, Assistant Director of the Parking Authority of River City (PARC) to a new three-year appointment on Transit Authority of River City's (TARC) Board. Ms. Clare also serves as Director of Multi-Modal Transportation for Vision Louisville. Louisville Metro Council Clerk H. Stephen Ott read a letter from Mayor Fischer, addressed to Metro Council President David Tandy (D-4) requesting prompt Council approval for the appointment during last Thursday's Council meeting. Certain board appointments made by the mayor require Council vote to approve them. Appointment to the TARC board requires Council consent.
According to state statute and city ordinance, qualification for membership to TARC's board stipulates, "No officer or employee of Metro Government may be appointed." Mayor Fischer's appointment appears to be a direct violation of the rule. Idiomatically speaking, the supposed reasoning for this rule is to prevent the fox from guarding the henhouse.
Ms. Clare is a long time Metro Government senior official, having previously served as Assistant Director for Economic Development. Her current salary is $74,219. Ms. Clare checked the box affirming her employment with the city on the form she submitted requesting consideration for board and commission appointment on July 15. The mayor's letter of appointment is dated July 27. The term of former TARC board member Mark Edmonson expired June 30. It is possible to surmise that there was no prior interest from anyone desiring to serve on the board that would garner the mayor's support, hence the quick submission expressing specific interest in TARC's board by Ms. Clare and subsequent approval and appointment by Mr. Fischer.
After the mayor's request was read into the record, the appointment was forwarded to Metro Council's Sub-Committee on Contracts and Appointments for review. Julie Denton (R-19) serves as Committee Chair. Jessica Green (D-1) is Vice Chair. Other council members on the sub-committee include David James (D-6), David Yates (D-25), Rick Blackwell (D-12) and Robin Engel (R-22). Residents would do well to contact these council members urging them to follow the law and reject this appointment.
It will be interesting and instructive to watch what happens next. It is the writer's opinion that the sub-committee should refuse to even consider or discuss Ms. Clare's appointment on the grounds that it is illegal for her to serve. One can expect Ms. Clare to withdraw her name from consideration prior to the sub-committee's meeting. She may very well cite her decision as a personal one, thus allowing her boss to save face. Surely there are other boards and commissions that Ms. Clare can lend her experience and expertise to that would not be inconsistent with state statute and local ordinance.
Perhaps now would be an appropriate time to review all of Mayor Fischer's prior appointments to boards and commissions to see how many other times he has broken the law.