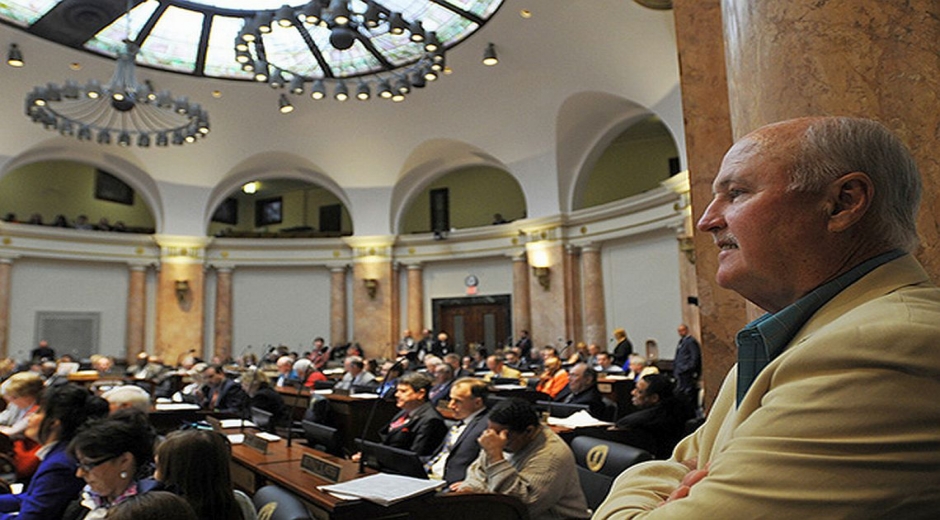 Week Ten Of The General Assembly

Thomas McAdam
iLocalNews Louisville is your best source of news and information about Derby City. 
Like the rest of the country, lawmakers at the Capitol are bracing for an incoming wave of March Madness.
Yes, there are plenty of enthusiastic college basketball fans at the Capitol. But this March is also a time when hallways, legislative offices, committee rooms and legislative chambers are getting increasingly busy as the 2016 General Assembly heads deeper into its final half.
With only 14 legislative days remaining in the regular session, the pace of actions on bills already picked up. The House passed bills this week on local option sales taxes and student athlete safety, among others. Meanwhile, the Senate sent bills regarding judicial redistricting, abortion clinic standards and Kentucky schools' academic calendar to the other chamber.
As the NCAA selection committee has been busy selecting the tournament's field of 68 teams, committees in both chambers of the Capitol have been similarly occupied, moving dozens of bills along the legislative process before Selection Sunday. Among legislative topics this week:
Local option sales tax. On Friday, the House approved HB 2, a proposed constitutional amendment that could ultimately give cities and counties the ability to levy up to a penny in sales tax for specific local projects. If the Senate also approves the bill, it would put the proposed amendment on statewide ballot this November. If the amendment is approved by Kentucky voters this fall, it would allow the General Assembly to give cities and counties the power to hold a local option sales tax referendum. Local voters could then decide whether to allow their local government to levy a limited sales tax of up to one percent to pay for a proposed infrastructure project, like sewer plants or convention centers.
Judicial redistricting. On Thursday, Senate Bill 8 passed a floor vote in the Senate. The bill, if approved by the House, would add a proposed constitutional amendment to the November ballot. When ratified, the amendment would lead to redistricting of circuit and district courts every 10 years, during the same years are legislative redistricting. The amendment would ensure judges are assigned to courthouses with higher populations, which usually translates into higher caseloads. It would bring the first such adjustment to the state judiciary since 1976. SB 8 was forwarded to the House, where it awaits consideration.
Abortion. The Senate passed a bill on Wednesday requiring abortion clinic operators wanting to open new facilities in Kentucky to meet higher operating standards. Senate Bill 212, if it becomes law, mandates that clinics have full operating suites with oxygen, crash carts and other medical supplies in addition to having a physician on staff with admitting privileges at a hospital within 50 miles of the clinic. SB 212 advanced to the House for consideration.
Minimum Wage. The House Appropriations and Revenue Committee passed House Bill 278 on Tuesday, which would raise the minimum wage to $8.20 an hour. The proposed increase, the state's first since 2009, would affect an estimated 26,000 Kentuckians currently working for minimum wage. The bill would not, however, affect small businesses -- companies with an average annual gross sales volume of less than $500,000 would be exempt. HB 278 is now awaiting full House action.
School year. The Senate passed a bill Tuesday that, if passed by the House as well, would allow for a later start to the school year. Under Senate Bill 50, schools would have the option to start later, a move that would help tourism, according to sponsors. Schools that start later would not be required to adhere to the current 170-day academic year, instead slightly extending each school day to reach the required 1,062 instructional hours a year. The bill is now under consideration in the House.
Rape kit testing. Senate Bill 63, which advanced out of committee on Thursday, directs the state's 300-plus police departments and 120 sheriff's departments to retrieve sexual assault kits within five days' notice from a hospital that the evidence is available. SB63 would also require law enforcement to submit kit samples to the state crime lab within 30 days, prohibit the destruction of any kits and notify victims of the progress and results of the tests. The bill will now be considered by the full Senate.
Animal cruelty. On Wednesday, the House Judiciary Committee passed a bill geared toward thwarting dog fighting in Kentucky. House Bill 428 would make it a Class D felony – punishable by a fine and a 1-5 year prison term – for the possession, training, breeding, and selling of dogs for the purpose of dog fighting. The bill is now awaiting a vote by the full House. A similar bill has also been approved by the Senate.
Student-athlete safety. House Bill 217, approved by the House and delivered to the Senate, would clarify the circumstances under which a high school athlete suspected of having a concussion may return to play. If the bill becomes law, any athlete suspected of having a concussion would be prohibited from returning to play if no physician or other licensed medical provider is present at the practice or competition to evaluate them. Athletes who aren't evaluated would not be able to play in any future practice or game unless they have written clearance from a physician
Tanning teens. The Senate Health and Welfare Committee passed a bill that would make tanning salons off limits for youngsters on Wednesday. Senate Bill 108 would prohibit anyone under 18 from using a commercial tanning bed in a commercial location, except for medically necessary treatment. It now awaits a vote by the full Senate. Currently, state law requires teenagers between the ages of 14 and 18 to have a signed parental consent form to use commercial tanning beds.
College scholarships. House Bill 626, passed by the House Appropriations and Revenue Committee on Tuesday, could help pay tuition for thousands of community college students. The bill includes the "Work Ready Kentucky Scholarship Program," which would help pay KCTCS tuition not covered by scholarships, federal or state grants. To qualify, students would have to be enrolled full-time and maintain a 2.0 grade point average, among other stipulations. HB 626 is now being considered by the full House.
Finally, just as the NCAA tournament has its late "play in" selections, the final four teams chosen to join the field, the Capitol this week is preparing to welcome four new House members who were winners of Tuesday's special election for vacant House seats. The new members will be sworn in next week.
Photo:  Sen. Johnny Ray Turner, D-Prestonsburg, observes proceedings in the Kentucky House of Representatives. (LRC Public Information Photo)
(Robert Weber, of the Kentucky Legislative Research Commission contributed to this article)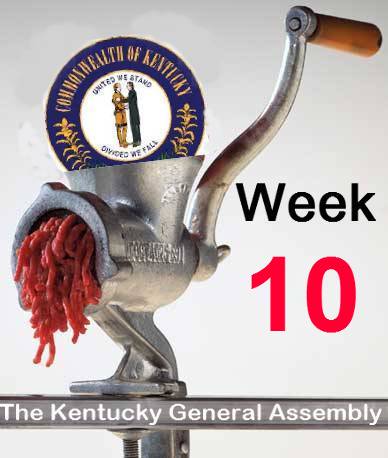 Gideon John Tucker (February 10, 1826 – July 1899) was an American lawyer, newspaper editor and politician. In 1866, as Surrogate of New York, he wrote in a decision of a will case (Final Accounting in the Estate of A.B., 1 Tucker 248, N.Y. Surr. 1866): "No man's life, liberty or property are safe while the Legislature is in session."