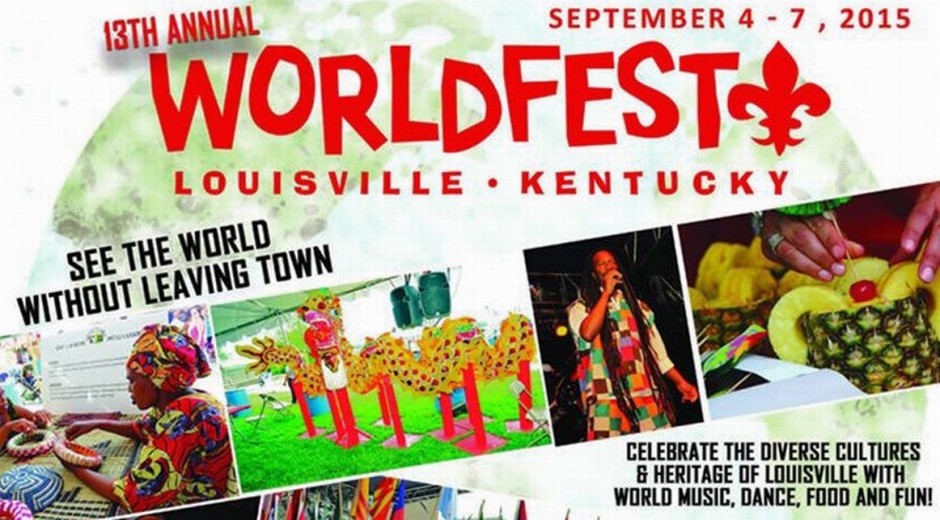 Thomas McAdam
iLocalNews Louisville is your best source of news and information about Derby City. 
WorldFest, one of the region's largest international festivals, celebrates its 13th anniversary with four days of expanded world food, music, dance, culture and education this Labor Day weekend, September 4 - 7.
Admission to WorldFest is free all four days of Labor Day weekend.
Cities that embrace and encourage their international citizens and cultures will thrive, have a stronger quality of life and will attract new growth and jobs," Mayor Greg Fischer said. 'WorldFest is a great event for exploring and celebrating Louisville's many faces and cultures and we always look to make it more vibrant, diverse and educational. So, it's exciting to add many new features and attractions for the 12th Annual WorldFest."
With at least 90 languages spoken in the Louisville public schools and 50 percent of the city's population growth over the past 15 years coming from international residents, Louisville is more culturally diverse than ever before.
WorldFest takes place in downtown Louisville at the Belvedere located at 5th Street and Main Street.
You won't want to miss this year's Global Village, which will bring international knowledge and diversity to the 2015 WorldFest.
The Global Village is a kaleidoscope of Louisville's culture where you can interact with representatives of more than 20 nations.  All nine of the Sister Cities will be represented again this year alongside a special new exhibit of the seven Celtic nations.  There will be various performances and food demonstrations throughout the weekend.
 Global Village will feature exhibits from the following nations and organizations:
    Ireland
    Scotland
    Cornwall
    Wales
    Brittany
    Galacia
    Isle of Man
    England
    Russia
    Sister Cities of Louisville
    In SCL: Mainz Germany
    Montpellier, France
    Leeds, England
    Tamale, Ghana
    Adapazari, Turkey
    Perm, Russia
    LaPlata, Argentina
    Quito, Ecuador
    Jiujiang, China
    Haiti
    Bosnia/Herezegovina
    Serbia
    Banyan Tea Co. (India)
    Jud Hendrix
    Beaded Treasures
    Eritrea
    Jamaica
    Greece
    Jewish Family Services
    Gina Stip - Italian Food Demonstration
    English Speaking Union
    Winya
    Arad American Association
    Somali Association
    Vietnamese Community
    Louisville Free Public Library
    Catholic Charities
    Kentucky Refugee Ministries
    Duprung Gomand Institute
    Americana Community Center
    Los Minotos Languages
    Japan
    Peru
For a complete schedule of each day's entertainment, CLICK HERE