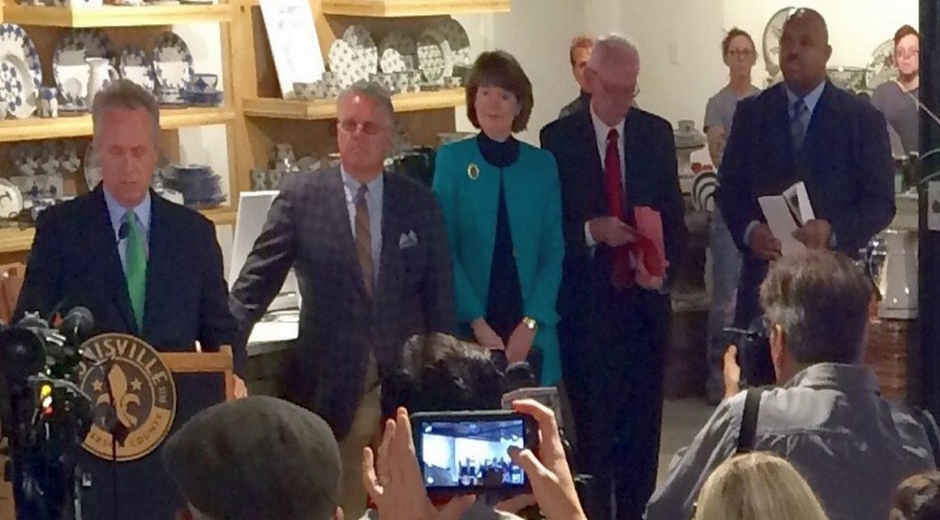 Thomas McAdam
iLocalNews Louisville is your best source of news and information about Derby City. 
The Paristown Pointe Preservation Trust will be applying for tourism tax credits to bring a $28 million project to the Paristown Pointe neighborhood, Louisville Mayor Greg Fischer announced today. The Paristown Pointe neighborhood, historically settled by French immigrants, is a wedge-shaped area bounded by Broadway to the north, Barret Avenue to the east, Kentucky Street to the south and an elevated rail line that runs parallel to Swan Street on the west.
The project, which will knit together five distinct neighborhoods, is co-anchored by Louisville Stoneware, The Kentucky Center for the Performing Arts, Goodwood Brewing Co. and a variety of other related amenities, and will bring jobs and a collection of restaurant and entertainment options to the heart of the historic neighborhood. The project will create an arts and cultural hub that unites downtown, NuLu, Smoketown, Germantown and the Highlands. Each of these neighborhoods is experiencing planned or ongoing transformative redevelopment, including substantial new housing and commercial uses, public art, workforce development and green infrastructure and neighborhood beautification.
Designed by architecture firm wHY, in collaboration with a host of talented local firms, the new district will feature sustainable development practices, including storm water infiltration in bioswales and other landscaped features, native plantings, natural building materials and substantial outdoor public space, and will result in a highly walkable, active and diverse district that offers numerous amenities to the existing neighborhood and the region. The project builds on wHY's experience designing the new Speed Art Museum, as well as other major urban design, cultural, mixed-use, and residential projects.
"We want neighborhoods and business districts that are walkable, that make it easy for citizens to interact and to find shopping, dining and entertainment options in and among buildings with an authentic character that's distinctly Louisville," said Fischer. "This project will accomplish that goal and complement the progress being made in redeveloping the neighborhoods that surround Paristown Pointe."
Louisville Stoneware is planning a $6 million renovation of its National Historic Register listed buildings. This renovation will create a dozen full-time jobs and will support community outreach programs aimed at engaging disadvantaged children in pottery classes.
"Louisville Stoneware is thrilled about the revitalization efforts for the historic neighborhood of Paristown Pointe," said Steve Smith, member of the Paristown Pointe Preservation Trust and CEO of Louisville Stoneware. "As we celebrate our 200th anniversary our renovations will continue our mission of preserving this great American treasure. Modernizing the visitors experience while remaining true to the legacy of this historic institution will give us the chance to engage a whole new generation in the Louisville Stoneware experience."
The Kentucky Center for the Performing Arts is planning to build a new multi-purpose, flexible performance space that will further its statewide mission to provide on-site immersive arts experiences and resources to audiences of all ages. This space will give The Kentucky Center the ability to host a wider range of artists, events and performances than can currently be supported in Louisville, and will be designed to support a variety of stage and audience configurations to maximize the types of events that can take place in the space. The facility will be nestled in substantial outdoor public area that will serve as community green space and a complement to The Kentucky Center's indoor performance venue.
"The Paristown Pointe development initiative gives us the opportunity to connect The Kentucky Center's expertise in performing arts and venue management with this new space desired by artists and audiences alike," said Kim Baker, president of The Kentucky Center for the Performing Arts. "While there is much work left to be done by those involved, The Kentucky Center Board and I are eager to move forward with the planning process for this project."
Goodwood Brewing Co. plans to build a $6 million brewery and tap room to focus on their barrel- aged products. "In order to keep up with tremendous demand, a second brewery is required.  Our commitment to invest in our community and the opportunity to partner with The Kentucky Center for the Performing Arts and the Paristown Pointe Preservation Trust made building at this location an easy decision," Chairman and CEO Ted Mitzlaff stated.
In addition to commercial developments, the city is planning to contribute $1.6 million for streetscape and sidewalk improvements.
"I want to commend the Paristown Pointe Preservation Trust for this effort to bring another section of our downtown back to life. This project will once again remind everyone that retail, neighborhoods and green spaces can be revitalized in Metro Louisville," said Metro Council President David Tandy. "Like NuLu and Main Street, we cannot forget the importance of Broadway and Barret Avenue as part of our urban core. We must make sure it is vibrant and healthy."
The project is dependent on the issuance of tax credits, without which it will not move forward. The Kentucky Tourism Development Finance Authority is expected to review the application by the end of the year.