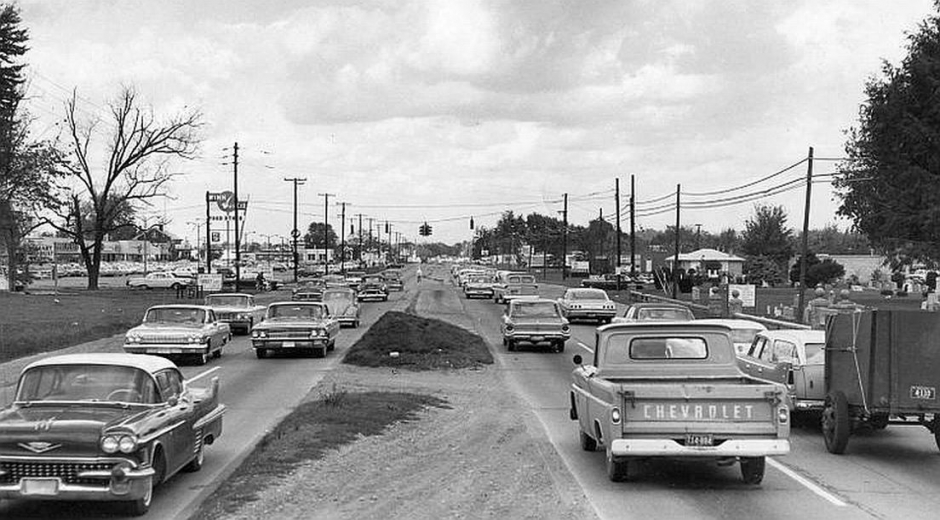 $16.9 Million For Dixie Highway Upgrade

Thomas McAdam
iLocalNews Louisville is your best source of news and information about Derby City. 
A huge swath of Louisville's Dixie Highway, from Broadway to the Gene Snyder Freeway, soon will be transformed into a modern, safer, more pedestrian-friendly corridor, thanks to a $16.9 million federal grant announced today by U.S. Rep. John Yarmuth, Gov. Steve Beshear and Mayor Greg Fischer.
"This federal investment will not only respond to congestion and safety concerns, it will revitalize the Dixie Highway corridor, by making it a national model of regional commercial and multi-modal integration," said Yarmuth. "At a time when federal dollars for infrastructure have been severely cut, for this project to receive full funding shows just how important these improvements are to our city, this region and our nation."
Dixie has long been one of Louisville's most important and busiest transportation and development corridors, providing a critical link for residents and businesses in southwest Louisville to jobs, educational institutions and medical centers elsewhere, as well as the nearby U.S. Army base at Fort Knox. In sections, Dixie Highway carries more than 60,000 vehicles per day and hosts the region's busiest bus route, Route 18, serving more than 4,800 daily riders.
But the corridor's current poor design negatively affects all transportation users and leads to double the number of injury-collisions when compared to similar roadways statewide.
The Transforming Dixie Highway project, funded through a federal TIGER grant and $11.5 million from the state, has three components: intelligent traffic signalization designed to reduce commuter delays; improved safety through new sidewalks and improved crosswalks; and new buses and enhanced stops to accommodate Bus Rapid Transit, with lanes designated for buses only.
 "Dixie Highway once ran through farmland, minutes from downtown Louisville. But over the last 100 years it has grown to become a critical corridor for the movement of people and freight between Louisville, Fort Knox and points to the southwest," said Gov. Steve Beshear. "Today it is wide, heavily used and often unsafe. The Kentucky Transportation Cabinet long has recognized Dixie Highway's strategic importance and poor repair and committed $11.5 million in state road funds toward the required match for a TIGER grant. With the TIGER grant now secured, the cabinet and Louisville Metro Government will be empowered to take a holistic approach to the Dixie Highway corridor, addressing safety, congestion, transit operations, access management and pedestrian connectivity in an integrated way."
Fischer agreed the grant application "was a true team effort – from the Mayor's Office to Congressman Yarmuth to Governor Beshear and many others.  This would not have been possible without the support of state legislators and Metro Council members, who are providing matching investments."
"The name Dixie Highway is synonymous with traffic congestion, pedestrian deaths and vehicle accidents," the mayor said. "This project will transform Dixie Highway and make it safer for drivers and pedestrians. It will also make the commercial stretch more attractive and improve public transit along one of our city's most important thoroughfares."
"It's not often that we can make such an impactful investment that will have a positive long-term impact on the community," he said. "We set out to think big and think bold about a better and safer Dixie Highway – and now we have the federal dollars to bring this innovative project to reality."
The Transforming Dixie Highway project was designed to move beyond incremental efforts made in the past to address congestion, safety and efficiency. The project takes a more strategic and comprehensive approach to building a sustainable, safe and well-managed transportation link between Louisville's downtown and its southwestern communities.
The Dixie Highway Master Plan was commissioned by members of the Metro Council to study the need for improvements along the corridor to help spur economic development and improve safety.
The estimated $35 million project, which currently runs from Oak Street to the Gene Snyder interchange, has already received over $15 million in funding from the state budget to proceed with design and construction.
Following the joint announcement, several members who have played critical roles in the progress of this project issued the following statements:
"I have worked tirelessly over the past several years to further the #DixieDoOver because I believe it will be transformative for the Dixie Corridor and Southwest Louisville. So many levels of government and civic organizations have supported this project and worked to build its momentum and I am thrilled to hear that the DH Project has been awarded this additional funding." Rick Blackwell, District 12.
"I am grateful that our efforts: from my colleagues on the Metro Council, Mayor Greg Fischer, the Louisville Forward Team, my colleagues in Frankfort and Congressman John Yarmuth have been heard loud and clear by the U.S. Department of Transportation about the importance of the Dixie Highway Redevelopment Plan to our city. This massive TIGER Grant will provide the essential funding needed to ensure the transformation of the largest economic corridor in our city. This investment will provide the safety improvements and economic development our Southwest community has longed deserved." David Yates, District 25.
"The announcement today is a fantastic step in the right direction for improving the Dixie Highway corridor by making it safer and more business friendly. I am pleased that the U.S. Department of Transportation sees this project as a worthwhile investment that will pay off for the people of Southwest Louisville. " Cindi Fowler, District 14.
"I am pleased to hear that this federal funding has been designated to continue with the long overdue work necessary for bringing Dixie Highway into the 21st Century. Motorists, pedestrians and others who use this important highway know it is time to make changes for safety and better mobility for the people in this vital area of Metro Louisville." Mary Woolridge, District 3
"Dixie Highway is a vital transportation corridor that must move forward with improving transportation flow if we are to not only enhance economic development but keep the public safe. I appreciate the team work on the local state and federal level to start making this project one that we will one day say is completed and innovative." David James, District 6.